Mahesha Rodrigo
Royal honours double International Mahesa Rodrigo
Royal College honoured late Mahesa Rodrigo, the former Royalist who represented his country in both cricket and rugby, at a simple commemoration ceremony held at Royal Sports Complex on Thursday.
Upali Gunasekara the principal of Royal College unveiled the plaque to name the home dressing rooms at Royal College Sports Complex in Rodrigo's memory in the presence of his family and a large gathering.
Mahesa Rodrigo was honoured for his remarkable contributions to rugby as a player, captain, coach, administrator and sporting ambassador and also as one of the few Royalists to lead his school team and represent the national team in both cricket and rugby. He captained his school cricket and rugby teams in 1946 and later leaving the Royal became a life member of Singhalese Sports Club, CR and FC and led the latter in 1952.
Rodrigo represented Sri Lanka in the national rugby team and his passion and brilliance in rugby saw him gaining the captaincy in the national team, being the first local to lead European dominated Ceylon team.
Legendary Mahesa played scrum half in rugby and was a wicket keeper batsman in cricket in his best days of sports and will always be remembered for his magnificent century (135 not out) against West Indies in the First Test in Galle in 1949. With his vast skills and experience in both sports Rodrigo shaped the
future of young players by coaching Royalists. His penchant for rugby took him to S Thomas', Mount Lavinia to guide Thomian ruggerites. As an administrator of sports he did his best at Royal and at CR and FC. There must have been so many who brought fame and honour to their alma mater but Mahesa Rodrigo stands out among them.
"Rodrigo was a double International who represented his country in both
cricket and rugby who forged a unique place for himself in history as a man
whose talent remains unsurpassed. Mahesa Rodrigo's lifetime contributions to Royal College , the sporting world and Sri Lanka will never be forgotten and his legacy will live on through his teammates, family, friends, colleagues, and all the youth who benefited from his invaluable coaching and guidance. It was indeed a fitting tribute to a man to whom Rugby and Royal meant everything." The members of the Royal College Rugby Advisory Committee, eminent former ruggerites of all generations , the current rugby team were also present on the occasion.
DN Tue May 3 2011
============
http://en.wikipedia.org/wiki/Mahesh_Rodrigo
Mahes Rodrigo - The end of a glorious innings
Tribute to a great sportsman
By Bernie Wijesekera
Mahesa (Mahes) Rodrigo one of Sri Lanka's early double-internationals has passed away after a brief illness. Mahes represented his alma mater, Royal College and later his country then known as Ceylon, both in cricket and rugby football as a diminutive wicket-keeper and scrum half respectively. His clubs were the Sinhalese Sports Club (SSC-cricket) and the Ceylonese Rugby and Football Club (CR&FC-rugby). He was particularly fond of the 'CR' where he was a live-wire for decades as a Life Member.
He was 84 years old.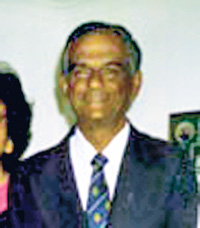 Mahes Rodrigo
Mahes Rodrigo played as Ceylon's wicket-keeper in the pre-Test status era and his 12 first-class appearances consisted of matches against Pakistan, the West Indies, Commonwealth XI and the Marylebone Cricket Club, amongst others. He also took the field for Ceylon in a one day match against Don Bradman's Australians in the 1947/48 season.
In 1949, at 20 years of age he represented the country in cricket, blasting 135 not out, as an opening batsman against 'fiery' fast bowlers of a first class West Indian test cricket team that visited the island. It was considered the 'gutsiest' innings played by any batsman on the 'Sara' Stadium Grounds described as 'the fastest, grassiest and bounciest' ever seen. In the 'one-dayer' against the world famous Australian test team captained by the great Don Bradman, Mahes performed with great distinction scoring a confident 26 runs and taking a 'superfine' catch to dismiss Loxton in the outfield.
Playing under the brilliant and crafty F. C. de Saram, young Mahes received his 'baptism' into big-time Cricket in the company of classy players like, B. R. Heyn, Sargo Jayawickreme, C. I. Gunesekera, R. L. de Kretser, S. Nagendra, V. G. Prins, M. Sathasivam, Bertie Wijesinghe, Sathi Coomarasamy, Ben Navaratne, Malcolm Spittel, Lucien de Zoysa and C. V. Abeysekera, to name a few.
In later years, Mahes coached several Royal College teams both cricket and rugby in the 1960s and early 1970s. Mahes never demanded respect but he commanded it, which he duly received from everyone who was associated with him. His 80th birthday was celebrated in style at the '80 Club' and in the midst of the gathering, shining out were Golden Oldies Bertie Wijesinghe and his wife Doreen, Ian Peiris, the Cambridge Blue and his wife Gun, Gamini Salgado, the 1942 Royal cricket captain, Summa Navaratnam, yet another die-hard old Royalist, also a ruggerite and once renown as Asia's fastest sprinter, Ifthika Cader to name a few. Joining him on this grand occasion were his charges U.L. Kaluaratchi, Vijaya Malasekera, Shaw Wilson, Chanaka De Silva, Malik Samarawickrama, Jagath Fernando, Susantha Ratnayake, Dhammike Wedande, Ray de Silva, Nalin Pattikirikorale, Ana Wimaladharma, Dr. Fred Perera and other vintage cricketers and ruggerites.
Glowing tributes were made to Mahes at this reception. The tributes paid to Mahes were sweet and were relived by greats such as by Bertie Wijesinghe who said: "He keeps some things to himself and never throws his thoughts around. He is quite a shy personality, but never shy when the pressure was on. A great pal since my days at the SSC."
The cortege lies at his residence at No. 69/8A, Senanayake Avenue, Nawala till 2 pm. today (Sunday) and will leave for the General Cemetery, Kanatte at 3 pm., The Royal College Union has requested past cricketers and rugby players of the College to be present at the Main Gate of the cemetery at 2.15 pm while the General Committee of the CR & FC have requested members to be present at 1.45 pm clad in club tie.
Sunday Times 9 Jan 2011
=====================
MAHES RODRIGO
January 22, 2011, 5:25 pm
by Commentator
Sri Lanka lost one of its sporting idols when Mahes Rodrigo passed away on January 7. He was one of our few double internationals, winning his Cricket and Rugger caps by his early twenties. He shone in both sports - as a top-class batsman and wicket-keeper, and as a brilliant scrum-half and captain.
Lest We Forget
Within a few golden years he had performed stirring deeds in both cricket and rugger. Who can forget the runs he scored, or his brilliance at scrum-half? As he walked out briskly to bat, or ran out leading the CR or Ceylon, the crowds would buzz with expectations of thrills to come. They were rarely disappointed.
Presented below are some cameos from his cricket career. No doubt other scribes will do justice to his feats on the rugger field.
At Royal
He won his cricket colours for Royal while under 16, as not only a batsman but a tearaway fast bowler and a brilliant fielder. Early in his first season he turned to wicket-keeping. His batting was a model of orthodoxy combined with aggression, and his wicket-keeping steadily improved. He stood out too for his perkiness and briskness on the field, traits which foretold the unveiling of a new facet in his armoury.
This happened in his third year, when he was appointed captain. From day one, he showed a god-given flair for leadership, for decisiveness, for the bold unexpected move, and for inspiring his team to perform at 110%. Probably his crowning achievement as captain was when he led Royal to an incredible one-run victory against Trinity, completely against the run of play. Needing only 120 to win, Trinity slipped from apparently easy victory to sudden collapse, with Royal storming back inspired by the infectious confidence of the skipper, his spot on bowling changes, and his brilliant wicket-keeping.
He went out on a high in the 1946 Royal-Thomian, playing two flawless innings of 48 not out and 35 not out, and leading the team to a decisive win.
Opening for SSC
By this time the champion SSC team's talent scouts had spotted him as a coming star. He was soon playing for the SSC, with the discerning F.C.de Saram elevating him from his customary school middle-order slot to that of opening batsman. Mahes graduated rapidly to the SSC First XI. He scored his first century for SSC on that historic day in 1947 when SSC blasted 530 for 2 in only three and a half hours' batting, with four centurions. Mahes, opening the batting, was first to reach his century, followed by FC de Saram, CI Gunasekera and Bertie Wijesinha.
Debut against Australia
His first taste of international cricket came against Bradman's Australian team of 1948 when they played in Colombo en route to England. Whistle-stop games though they were, these one-day matches were among the rare opportunities to face international sides. Mahes took a spectacular high catch and batted aggressively, and earned praise from Australian Test opener and leading cricket journalist Jack Fingleton, who wrote: "..Rodrigo made a really great catch to dismiss Loxton in the outfield. Probably Rodrigo found it difficult to sight the ball at first against the dark background but he brilliantly retrieved this initial error of judgment by taking a grand overhead catch in true baseball fashion. It is catches like these that linger in the memory and win matches." Fingleton was equally complimentary about Mahes's batting: "..Rodrigo began to bat as if there was not the slightest venom in the Australian attack. He is a very attractive batsman, this Rodrigo. He uses his feet smartly to get into position and his bat is impeccably straight in defence. He is a good model for the young to follow. Especially as he does not hesitate to give the loose ball all it deserves."
Epic Century against West Indies
The next milestone remains one of the epics of our cricket. While All-Ceylon were being crushed by the mighty West Indies in 1949, visiting after a successful tour of India, Mahes made a record fighting 135 not out on his unofficial Test debut, overtaking Sargo Jayawickrama's 132 against All-India in 1932. There was no protective gear those days, and the Windies quicks, Prior Jones and John Trim, made the ball fly on the fast Oval wicket. Mahes stood up to them unflinchingly, with a blend of impeccable defence, attractive stroke play and sheer guts. The great C.I. Gunasekera, who partnered Mahes in a century stand, described this knock as "the most gallant innings I have ever seen."
Century against Pakistan
Runs continued to flow. When a strong Pakistan team toured here in 1949 Mahes scored a century in the tourists' warm-up match against the SSC. In addition to making the first century against the West Indies, he had now become the first centurion against Pakistan.
Standing up to the MCC
Another innings stands out as testament to his grit and technical soundness. This was in 1952, when an MCC team had been thrashed by a powerful Ceylon-India-Pakistan-Australia Combined XI, led by F.C. de Saram. Smarting at their defeat, the MCC came out with all guns blazing in the Test against Ceylon, and Statham and Ridgway ran through our side – except for Mahes, who withstood the blitz with a fighting 42, an innings worth many a century.
Complete Cricketer
Mahes Rodrigo was the complete cricketer. As a batsman, he had all the shots in the book. The foundation was a technically perfect defence – essential to flourish as an opening bat against such masters of pace and swing as Selvadurai and Coomaraswamy of the Tamil Union and Spittel of the NCC. Loose balls received short shrift, because he excelled in crisp cover drives, square cuts and hooks – and he was among the very few batsmen who could play the late cut. Fingleton captured the essence of his batting in his report on the Ceylon-Australia one-dayer (see above) when he wrote: "He is a very attractive batsman... He uses his feet smartly to get into position and his bat is impeccably straight in defence.. he does not hesitate to give the loose ball all it deserves." In style he resembled Gavaskar, with his compactness, tight defence and crisp all-round stroke play. As a wicket keeper he was second only to the incomparable Ben Navaratne. He was brilliant in the outfield, and could bowl fast if required. And to crown it all, a marvellous captain, who, as Australian fast bowler Rodney Hogg once said about Mike Brearley, "had a degree in people."
He was a natural to captain Ceylon, after the giants of the fifties, but a knee injury derailed his game, leading to his premature retirement from serious cricket.
Coach
Mahes was also an outstanding coach for Royal. There was no age or communication gap – here was their young old boy, brilliant skipper, and maker of a heroic century against the West Indies imparting his knowledge, and teams and captains lapped it up. He never over-coached, pointing out only major flaws, and preferring to teach captains, batsmen and bowlers to think for themselves. Unlike other coaches, he did not sit in the pavilion but watched from afar in the crowd. Having said what he had to at practice, he wanted captains to take full charge and work things out on their own. The invaluable quiet comment or advice would come after the match.
Devilry
One reason for his immense popularity was that on or off the field he was the bright young man, sprightly, provocative, and mischievous. It was the irrepressible streak of devilry in him that made him, after rugger practices at the C.R. & F.C., roar off on his motor bike, stand up on the seat, hands aloft, and motor along until traffic got too heavy. Fortunately for our cricket and rugger, he survived this trick motor cycling!
Combativeness
Even in his senior years the combativeness of the man was clear to see. One day, playing 10 holes of golf, he lost the first four in a row. Totally undaunted, he remarked tersely, "Good match to win", and marched off jauntily to the next tee. And he did nearly win.
Joining three laid-back 70-year-old golfers, he managed to coax and cajole them into playing matches, and transformed them into reasonably competitive golfers. Not for him the aimless hitting of a ball. He wanted a battle, and he wanted to win!
One of a Kind
Sri Lanka will produce many more sportsmen, but it is hard to imagine another Mahes Rodrigo. The immense talent and knowledge was enhanced by an unique blend of sprightliness, humour, mischief , intelligence, fighting spirit and leadership flair – a combination hard to replicate.
May the turf lie gently over him. //
The Island May 3, 2011
================
Mahes Rodrigo Master of Cricket and Rugby
Sporting Personalities with Ken de Joodt :
Sporting Personalities: Over 3000 years ago, a true encounter was staged between a giant named Goliath and a 'small-sized' David! It is recorded that David used a stone and Sling-shot to 'whack the daylights out of the Giant' - slaying him instantly!! In the last century of the 2nd millennium (1900's) there was a 'duplicate Little David' who 'whacked the daylights' of 'bigger giants' on the fields of Rugby and Cricket - to 'knock-up' some great records! This was the 'Maestro' Mahes Rodrigo, another legend in his time, whose brilliant 'run' of achievements are worth recording, to be read fifty years later! As Bertie Wijesinha, a brilliant Cricketer, Coach and Author of 'Love of Life Time' - states in his book "Our cricketers have proved themselves in the shortened version of the game.
It is perhaps justifiable and apt to remember what Mahes Rodrigo prophesied 50 years ago with 'acute Cricket brains' in this country" - when he remarked "We should stick to One-Day-Cricket - we can beat the World!!"
Forthright, humorous and famous as he has been and still is, Mahes at 20 years of age represented Sri Lanka in Cricket in 1949, blasting 135 runs not out, as an opening batsman against 'fiery' fast bowlers of a first class West Indian Test Cricket Team.
It was considered the 'gutiest' innings played by any batsman on the 'Sara' Stadium Grounds and described as 'the fastest, grassiest and bounciest' ever seen. In his first International outing, a 'one-dayer' against the world famous Australian Test team Captained by Don Bradman, Mahes performed with great distinction scoring a confident 26 runs and taking a 'superfine' catch to dismiss Loxton in the outfield.
Playing under the brilliant and crafty Cricket Captain, F. C. de Saram he received his 'baptism' into big-time Cricket in the company of classy players like, B. R. Heyn, Sargo Jayawickreme, C. I. Gunesekera, R. L. de Kretser, S. Nagendera, V. G. Prins, M. Sathasivam, Bertie Wijesinha, S. Coomarasamy, Ben Navaratne, Malcolm Spittel, Lucien de Zoysa and C. V. Abeysekera, to name a few.
In the same year, Mahes scored a glorious century for S.S.C. against Pakistan, the second century made in quick succession against two International teams, West Indies and Pakistan, which was then considered a unique Sri Lanka record.
Mahes was described as a 'good thinker of the game' whether it be Cricket or Rugby, with the mind of a 'Tactician' and as a 'model Cricketer for the young to follow' - From the mid-forties he kept-wickets for Royal College, Colombo, displaying dazzling performances in batting, which entitled him to Captain Royal Cricket in 1946.
Mahes led Royal to a memorable victory against Trinity, with G. T. Kapukotuwa taking 6 wickets for 50 and Mahes as Wicket-keeper brilliantly stumping four batsmen behind the wickets, to win by one run! By the end of the season Mahes proved his mettle by leading the Royalists to a sensational win against the Thomians in the 'Battle of the Blues' by 84 runs.
Mahes top scored in both innings, creating a remarkable record in the series by scoring 48 not out and 35 not out, making a total of 83 runs without losing his wicket. In 1939, Bertie Wijesinha the Thomian Captain, scored 63 and 70 runs but he was 'out' in both innings.
In Cricket, he was considered the best 'stumper' in the schools, a sound right-hand bat with powerful stroke-play, which continued throughout his Cricketing career for Clubs and for Sri Lanka. As he said "I never had any pretensions of being a top stroke-maker, but as an opener I played the bowling essentially on its merits-the runs came later. I specially favoured the 'hook' and the 'cut' in batting."
Born on 30th June 1928 to a wealthy family, Mahes studied at Royal College Colombo, from 1939 to 1946, where he had a glittering school career. Shortly after leaving college, he commenced employment at Walkers Ltd. and worked for ten years at Wakers Ltd., along with his good friend and record-breaking 'Cricket-Partner' C. I. Gunasekera. During this time between 1948 to 1954, Mahes was in the limelight, as a "Superstar" shining bright in Sri Lanka Cricket and Rugby!
In the midst of all the 'glamour', he played his best 'late-cut' and 'got caught-out', to a beautiful young Yoga Sellamuttu, (daughter of Adigar Arumugam Sellamuttu, whose wealth and regality was evident on "Sellamuttu Avenue," in Kollupitiya) and married Yoga in 1954.
With one son Maitra (53 yrs), who is presently in England and married to Dale (daughter of Raine Wright, elder brother of former Sri Lanka Rugby Captain Malcolm Wright), they brought forth a 'bundle of joy' a daughter Tharini (42 yrs).
She is currently working for the "Dubai World Cup" office in Dubai, - the biggest Horse Racing event in the world! Tharini married Mike Wasper, a former Welsh Rugby Forward who was working for the British High Commission in Colombo.
Mahes's father Cyril Rodrigo, was the sole Proprietor of Rodrigo Restaurants (Green Cabin and Pagoda) until 1966, before it was made a Limited Liability Company. He was married to Mallika, sister of Sri Lanka's former Cricket Captain S. S. 'Sargo' Jayawickrema.
His parents coincidentally died at the same age of 76 years! As Vohara de Silva, the longest serving Manager in the company, a nephew of Cyril Rodrigo, agreed that his uncle Cyril Rodrigo and the family, have all been generous, kind, compassionate and acted with concern. Mahes's younger brother Devaka Rodrigo, now 72 years of age, also played top-class Rugby for CR & FC and for Sri Lanka in the 50's, along with him.
Recently, Mahes was honoured by the CR & FC and made a "Life Member" for all the great performances and splendid service he has done for the club.
In 1959, Mahes Rodrigo (then 47 years younger!) commenced work, as a Freight Broker for Somervilles Ltd (a British Brokering Company handing tea, rubber and coconut products) to service Export Companies and canvass valuable export cargoes from Sri Lanka to the UK, USA, Far East, European Continent and other countries around the world. After about 10 years, he worked with Mackinnon Mackenzie Ltd in Shipping. By 1979, Mahes assumed a Director's role in the administration of the Rodrigo Restaurants.
Simultaneous to his prowess in Cricket from 1943, mahes also proved his exceptional class as a superb Scrum-Half, and was appointed Royal Rugby Captain in 1946.
It stands out in his mind, that Trinity were so impressive in their smart attire on the Rugby-field, with their dazzling red, yellow and blue rugby jerseys - that it gave them the 'jitters' and 'butterflies' in their stomaches each time the Trinity team ran onto the field!!
In 1952, Mahes was the first Sri Lankan to be appointed as Captain of the Sri Lanka Rugby Team against the Australians and again in 1953 versus the New Zealand Colts.
He captained the CR & FC in 1955 and the Colombo Clubs playing as Scrum-half to pair-off with Ago Paiva, several other great players like, John Arenhold (a South African Trialist), Lionel Almeida, Kavan Rambukwelle, Ivan Diasz, Rajah Williams, Dr. Trevor Anghie, Devaka Rodrigo, Ashey Cader, Conrad and Desmond Ephraims, Summa Navaratnam, Neville Leefe Peter Sawdy, P. Mahendran, Maurice Perera, Malcolm Wright, Barry Cameron, Donald McRae, David Parker, Hugh Keith Anderson, Nick Dewing, Phil Sparks, A. K. Doray, Fred Kreltszheim, Geoff Weinman and Norman Gunewardena.
After the New Zealand tour of Sri Lanka, a Manager of the team J. Steward, had told a meeting of the New Zealand Rugby Union at a press conference - "Mahes Rodrigo, Captain of the Ceylon (Sri Lanka) team was well up to the best New Zealand Provincial standards."
On the 30th October 1999, the great "Royal Explosion" was staged as a Parade down the streets of Colombo and over 13,000 people turned out to honour their Alma Mater.
Mahes was one of the distinguished Old Boys who was among those who were honoured for their great contribution to the College. In addition to being the Head Prefect, Captain of Cricket and Rugby while at Royal, he also coached the boys for many years in Cricket and Rugby, till very recently.
As one senior old boys said Mahes Rodrigo instilled into the players at all times - "Let it be a Sport, not a fracas - and play it in the correct spirit, with its true traditions!"
Rugby football is a game for gentlemen in All classes but never for a bad sportsman in any class" is a motto picked up from a Rugby club in New Zealand.
DN 21 Oct 2006
==========